Quick and Easy Cinco de Mayo Celebrations
This blog was written by our Campus Ambassador Sara Monica Gaona. She is a Senior at Fairleigh Dickinson University and is graduating in May with her Bachelors of Arts in Communications with minors in Sociology and Public Relations. She loves to eat and is passionate about food, friends, and great times. She has a food blog called Small Chick Big Deals you can follow on Twitter- @smchickbigdeals. You can also follow her personal Twitter handle @sierrax0x!
Cinco de Mayo has been one of my favorite holidays to celebrate while I've been in college. Every year two of my friends and I celebrate together, it has been our tradition since freshman year. Our celebration has evolved from simple chips, dip, and drinks to chili, tacos, and homemade sangria. This may seem expensive but these recipes are really easy to make and won't break your budget.
Here's a simple slow cooker chili recipe:
SLOW COOKER CHILI



















1 lb. ground beef
1 can (15 1/2 oz.) black beans
1 can (8 oz.) tomato sauce
onion powder
Pepper
1 tsp. chili powder
1/2 tsp. salt
Brown ground beef in skillet; drain excess fat. Combine remaining
ingredients with ground beef in slow cooker. Cook on low setting for 8 to 10
hours. Makes 6 servings.
That's just one of many chili recipes; you can find alternates online, especially if you are a vegetarian, etc. This year my friends and I are having chips, salsa, and making homemade tacos. Tacos are a quick and easy recipe. Another easy recipe that won't cost you a ton is homemade sangria. I made it last year and it was a huge success with everyone who came. I looked up some recipes online and made my own recipe. Also since I am half Colombian I was able to find out how some of my relatives make theirs.
Here's a SANGRIA that is very easy to prepare, the longer you let it sit the more of a fruity flavor it has. You can use either white or red wine, depending on your preference. It will be nice and cold and ready serve the next day or later in the week!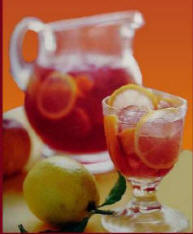 3 tablespoons sugar
1 small glass of fruit juice
3 shots apple schnapps
3 shots of rum of choice
1 lime, sliced (optional)
1 lemon, sliced (optional)
2 ripe peaches, cut into wedges
3 ripe green apples seeded and cut into wedges
1-2 bottles of white or red wine.
1 pint raspberries or blueberries
Combine sugar, schnapps, rum, lime, lemon, peaches and apples in a large
pitcher. Cover with 1-2 bottles of wine of choice, and chill for several hours.
To serve, spoon fruit into glasses and then pour sangria out of the pitcher and it's
ready to serve. This recipe is meant for a large pitcher but if using a smaller
pitcher use ingredients to your liking!
Hope you all enjoy these Cinco de Mayo recipes and can use them when you get together with your friends! Feliz Cinco de Mayo!