Top 10 Jobs to Have on Campus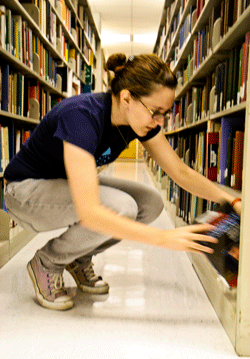 This blog is written by Korrie, our campus ambassador from SUNY Cortland. She majors in Communication with a concentration in Public Relations and will be graduating in May 2012.
There are so many different ways to earn some extra cash while in school. It is important that you find the right one that works with your schedule and you have fun doing. In my experience, these are the best jobs to have while in college. (not listed in any specific order) To make things easier, always make sure you have a resume and references in order when applying to any job!
1. On campus Alumni Affairs. For all four years in college, I worked in a call center for Alumni Affairs and it was one of my favorite jobs. Talking to alumni is great networking, and a lot of them are very open to talk about their career and their time at your college. It's one of the highest paying jobs on a lot of campuses and looks great on your resume.
2. Working at the Library. If you have a lot of work to do and spend most of your time there anyway, why not work there? Student library workers say they spend a lot of their time sitting at the front desk and late at night can getting their school work done while getting paid.
3. Tour Guide. Do you remember your tour guide when you were visiting your future colleges? If your upbeat and have a bubbly personality this is a great job. You already know your way around, so why not get paid to show others? You could end up being a major influence on people's college decisions and it looks great on your resume.
4. Working at Career Services. You always first to know what is going on in the career world. You know when all of the workshops and career fairs are and I bet you will have the best looking resume out of all your friends.
5. Working for Yourself. Use your skills and be inventive. Make a list of everything you can do and what skills you have and then see how you can turn that into money. A lot of businesses will pay big money for logo design, making advertisements, recruiting customers, website building or people to update their social media accounts.
6. The Gym. Working at the gym is a great incentive to get to the gym. It's also a high energy place with lots of endorphins in the air. A friend of mine teaches a yoga class and the pay is great. Classes are free on most campuses and after a while of taking a certain one, you can qualify to be an instructor. Get paid to be healthy and do what you love.
7. Babysitter or Afterschool Child Care Provider. If you check with your University career center, they usually have listings for local babysitting jobs or for afterschool child care centers. It is a great way to earn some extra cash and get good references. A few of my friends babysit for their professors and the pay is great and they built a long lasting relationship with that professor.
8. Lifeguarding. A lifeguarding license is always something good to have. Check with the campus pool or the local YWCA for open lifeguarding positions. Most pay between $9.00-$12.00 an hour and it's not exhausting work.
9. Tutoring. If you got a really good grade in a challenging class you can sign up to be a tutor the next semester. The pay is really good and you set your own hours.
10. Coaching, Refereeing, Sport Instructor. One semester my friend and I replied to a listing to be an after school cheerleading coach at the local middle school. We had so much fun and really got to know all of the girls on the team. Other people we knew got paid to referee the football games on Saturday mornings and really enjoyed it. My college is right near a ski resort, a lot of students are ski instructors, snow board instructors, or cater the events.